We at MeasureOne are building our business on the promise of consumer-permissioned data which depends on two key assumptions: 1) data is increasingly online and accessible to consumers via an online account with login credentials, and 2) consumers want more control over their data and how it flows to various organizations. The second assumption is one of the first topics that come up in any conversation we have with a prospective customer or partner. Whether it's a lender or a background screening company, organizations want to ensure their consumers have good user experiences and are fearful of any data solutions that may introduce extra steps (i.e. friction).
Because consumer consent and engagement is at the heart of our business, we take this topic very seriously. In particular, we have ongoing surveys to receive feedback directly from consumers who interact with our platform and we monitor the consumer journey through our platform very carefully. Below we are sharing the results of these efforts for the first time to help dispel any myths.
So do consumers want to be involved in the data collection process? The data - both survey based and analytics driven - is yes!
Survey Results
A majority of users find it extremely important to be a part of the data collection process. In fact, 82% of respondents to our survey do.

It's true—data transparency and privacy is important. And consumers today are even more aware of the implications of sharing their personal data online and with third parties.
Of those we surveyed, 80% were able to complete the process of sharing their data by either connecting their account or uploading the relevant documents. Of those that couldn't complete the process (if they forgot their credentials or could not establish a connection with their employer/school), 79% were comfortable sharing their data nonetheless.
Applicant Participant Rates
Most survey respondents were comfortable allowing us to use their credentialed data, and our historic data shows that even more of our users are willing to participate in providing credentialed data. We've sent tens of thousands of users data request emails and looked at the results of these interactions to assess performance. Open rates hover at 95%+, have higher click rates than industry average, and of those users that click, 99% accept our privacy terms and conditions.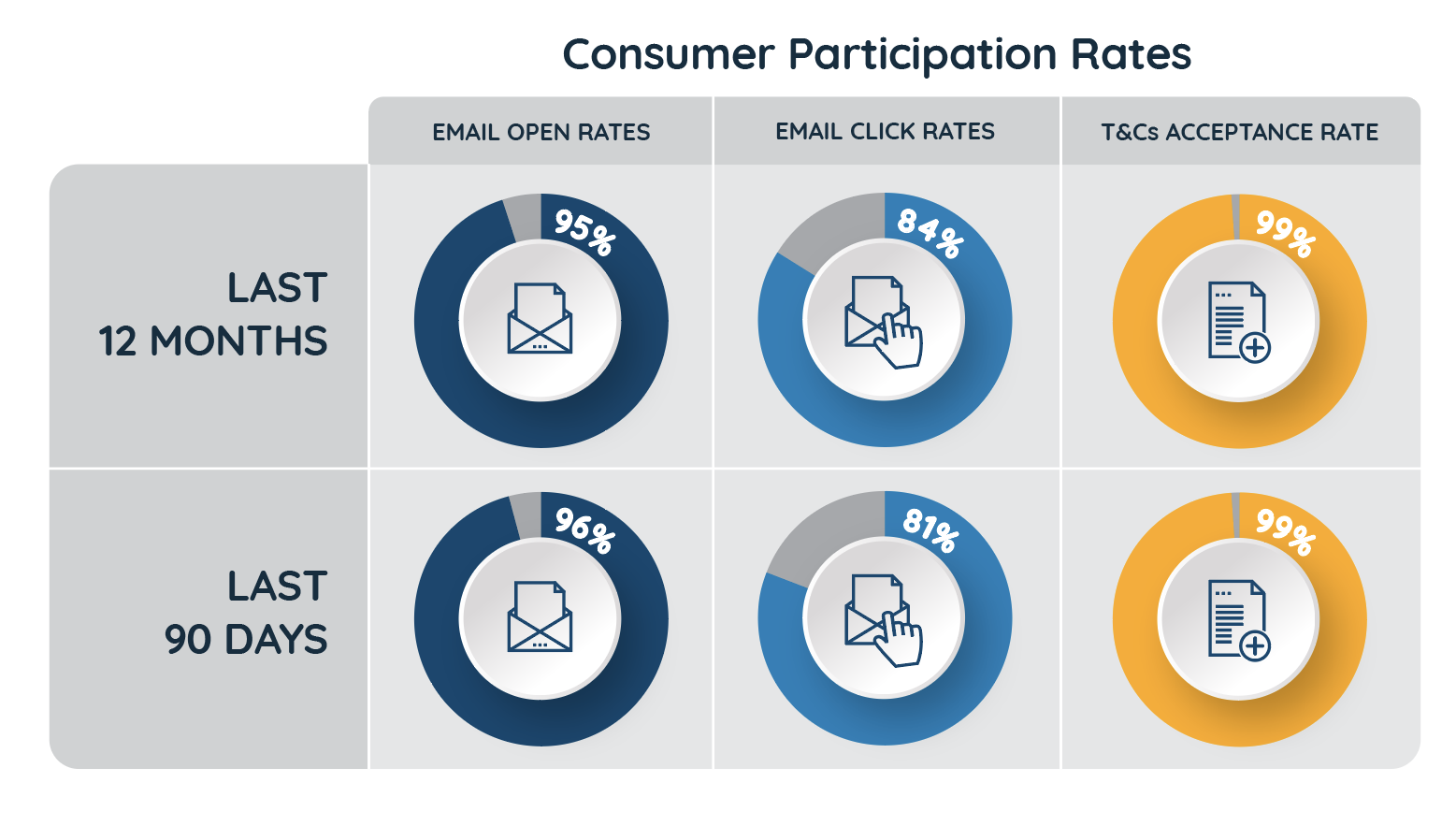 The high rate of acceptance of our terms and conditions illustrates the keen interest in consumers sharing their data. See how we represent the terms for our privacy policy and consumer consent below: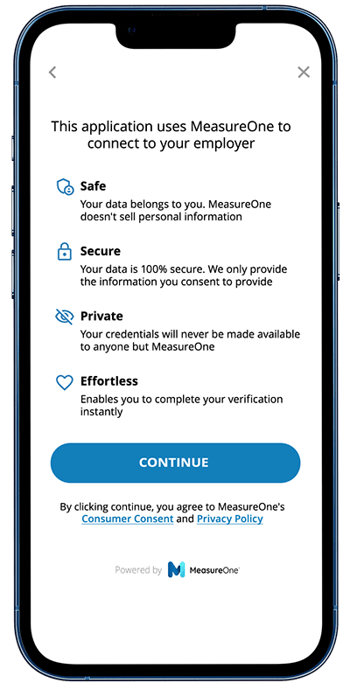 Results and Insights
Ultimately, our findings suggest that asking the consumer for their credentials and involvement does not detract from the applicant experience. Consumers want to be involved and are more than willing to share their credentialed data to complete your verification processes.
Plus, with high participation rates and consumer satisfaction, customer involvement shouldn't be the reason you don't choose MeasureOne.
FAQs about the process
We receive many questions about our process and applicant participation. Here's the top questions and answers:
Do applicants want to be involved?
Yes, data shows that applicants open our emails and initiate the verification process close to 95% of the time.
How long does the process take?
It depends on the applicant but most complete it within 24 hours.
Can you verify data 100% of the time?
We rely on the applicant to complete the process so when they don't complete our process, you can complete them using your existing processes at no additional cost from MeasureOne
Who can applicants contact if they have questions about MeasureOne?
We provide 24/7 support to applicants.
Data consumers want to give, data direct to you
MeasureOne enables businesses to send a data request to their consumers and connects directly to a consumer's online accounts to verify everything from employment history to educational history, to current income to proof of insurance. The use cases are limitless.
In just three easy steps, you get the data you need:
Connect with MeasureOne using one of our many integration options
Present the consumer with the data request using MeasureOne
MeasureOne collects the data and provides it directly to you
We're ready to work with you to streamline any consumer data collection needs. Take the next step with MeasureOne.