Gig Economy Companies
Collect gig worker insurance data instantly and on a recurring basis to lower your risk
Verify auto or other insurance coverage for any gig worker you hire
Lower your risk by ensuring your gig employees have the appropriate insurance coverage in place at all times
Enhance the gig worker onboarding experience and lower your costs by leveraging the MeasureOne API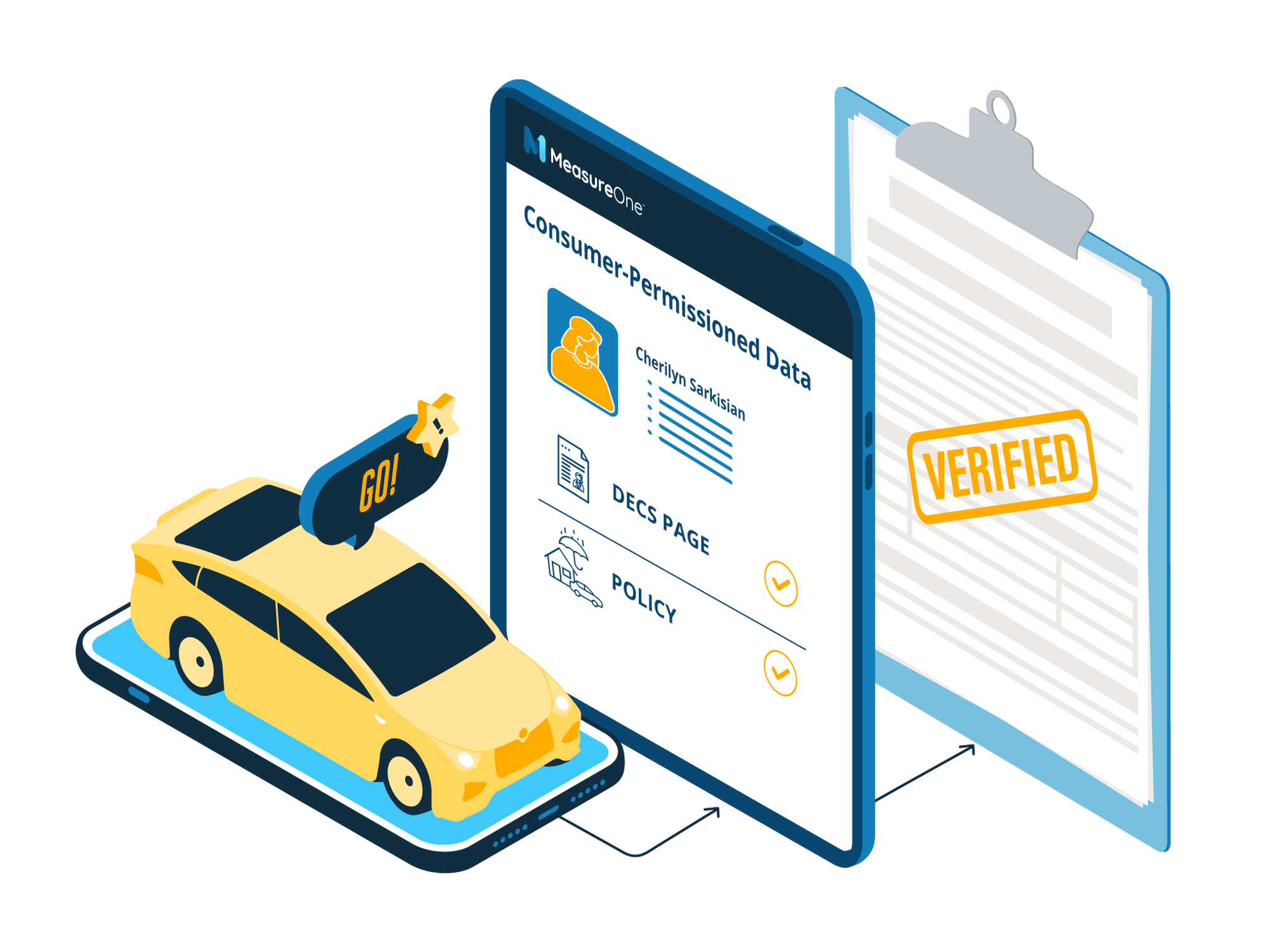 Instant Insurance Data Collection for Gig Economy Companies
Your One-stop-shop for auto insurance data
A powerful platform
Integrate once with MeasureOne's API and access any data that lives in consumers' online accounts for any verification needs.
Single, easy applicant experience
Verify employee insurance coverage, including auto insurance verification, with one consistent UX
Full Automation
A fully automated verification experience means faster processing and fewer errors when when verifying insurance coverage for your employees
Superior market coverage
95% of all major auto insurance carriers, 100% support for all major insurance providers, and more than 2.7 million documents processed
Consumer privacy guarantee
All data consumer approved
Document Processing
Proprietary, automated, and deterministic document processing with 100% accuracy so employees can upload their insurance policies with ease
Gig Economy Company Use Cases
We power any insurance verification you need to lower your risk and enhance gig worker onboarding
Auto Insurance Verification for Gig Workers
MeasureOne provides a streamlined process for verifying proof of auto insurance for gig workers. While using consumer-permissioned data, MeasureOne can streamline your current insurance verification processes. Instead of users having to manually provide proof of auto insurance, now they can log directly into their online insurance account to give you access to their auto insurance data.

This new method of providing auto loan insurance verification is a faster, safer & easier way to underwrite car loans. To provide a win-win to you and your car loan applicants, get a demo today.
Document Processing for Gig Companies
Our document processing product allows consumers to upload any structured or unstructured image or document for your business needs. The document is processed with 100% accuracy, pulling the requested data you need instantly. Contact us to learn about all of the current capabilities of our document processing product and how we can improve your current systems. With the ability to access auto insurance data via document upload, MeasureOne can improve your current onboarding platform. Get a demo today.
Customized Request for Data
MeasureOne's consumer-permissioned data platform can be customized to pull verified data from any online consumer account. Have something new in mind that isn't appearing above? Contact us today and talk to one of our expert team members about any custom data verification request you may have.
Getting Started is Easy
From small business to enterprise, integration solutions for everybody
Hosted Portal
MeasureOne provides hosted web experiences with no development required for gig companies and employers.
3rd Party Platforms
MeasureOne integrates with third party platforms allowing for easier integration and deployment using your existing operational workflow with recurring and one-time data access
API
Integrate the consumer experience natively into your application. Results will automatically populate your platform
Gig Economy Customers
Trusted by 90+ brands, MeasureOne is the leading consumer-permissioned data platform for the automotive market.


"Using MeasureOne has allowed us to accurately verify income for our members in a shorter time-frame than ever before.Plus, the MeasureOne team is so helpful and always enthusiastic when we provide feedback."
Ready to get started?
Let us show you the value of consumer-permissioned data for your business